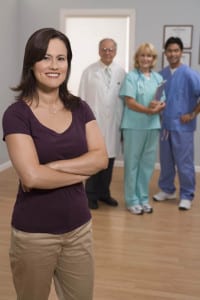 DFD Russell Medical Center meets and exceeds the healthcare needs of its patients through innovative, patient-centered primary care services and the application of the Patient-Centered Medical Home model.
The Patient-Centered Medical Home is a national program for improving primary care; the program promotes the organization of care around patients, work in teams, and the coordination and tracking of care over time.
Research Shows Success of Patient-Centered Medical Home Model:

Through a system focused on care coordination, patient education, and medication management, DFD Russell has seen a
20% decrease in medical provider visits
50% decrease in visits to the ER
38% decrease in hospital stays
DFD's integrated primary care services keep patients healthy and their medical costs low.
Health Care Experts Endorse the Patient-Centered Medical Home Model:
"The patient-centered medical home is vital to the future of our health care system. It ensures comprehensive, coordinated care that focuses on prevention and chronic care management, which have been shown to improve patient outcomes. At the same time it ensures patient access to the full range of Medical services, it can prevent duplication and fragmentation of services that can contribute to medical errors and unnecessary costs."

-Ted Epperly, M.D., President, American Academy of Family Physicians
"It is such a relief for parents and families to have a medical home that works for them and their children. Having to navigate the medical system for prevention purposes is hard enough. It becomes even more dizzying when your child is sick. In the end, medical care providers who partner with families make their work more efficient and effective."

-Sophie Arao-Nguyen, Ph.D., Executive Director, Family Voices, Inc.
"The patient-centered medical home puts the explicit emphasis on an established relationship between the patient and primary care physician. That relationship is fundamental to the delivery of care that is safe, effective, patient-centered, efficient, equitable, and timely – the definition of quality care. Patients need ready access to a medical home to reach their full health potential as engaged managers of their health."

-Alan P. Spielman, President and CEO, URAC