DFD's Tips for a Safe Summer
Summer is in full swing–you've fired up the barbeque, the kids are splashing in the sprinkler, and the sun is shining. DFD wants to make sure your summer is as safe as it is fun. Follow these helpful tips for summertime safety.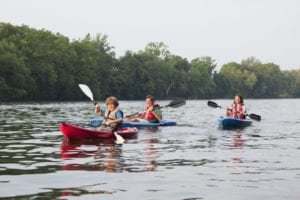 Be H2O Smart:
Enroll kids in swim lessons to help ensure their safety in the water
Use U.S. Coast Guard-approved life jackets on the water
Be Informed about Boating Safety:
Don't drink alcohol and drive
Take a boating safety course – learn more here
Get a free Vessel Safety Check from the Coast Guard Auxiliary – learn more here
Keep Cool in Warm Weather:
Drink Plenty of water even if you don't feel thirsty
Put on and reapply sunscreen; wear a wid-brimmed hat to protect your skin from the sun
Take cool showers or baths to cool down when feeling overheated
Never leave children or pets in cars
Don't let Mosquitoes and Ticks Bug You:
Keep bugs at bay by using EPA-registered insect repellents. Try a repellent that contains 20% or more DEET
Perform tick checks after spending time outdoors
Wear loose, long clothing and tuck in your clothes to avoid openings
We'd love to hear how you're having a safe summer. Let us know your favorite ways to beat the heat while having a blast this summer on Facebook.