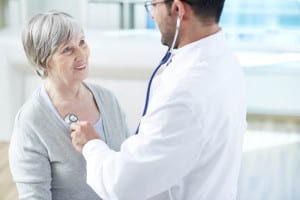 DFD Russell Medical Center's experienced providers offer superior medical primary care for the prevention and treatment of illness and injury. Our commitment to patient-centered care means our providers focus on you, the patient; they are committed to building long-term relationships with patients, and each patient is backed by an accessible health management team.
Primary care physicians, nurse practitioners, and physician assistants are well equipped to meet the needs of members in our diverse rural community. Many of our providers are specialists in areas such as women's health, geriatric medicine, diabetes, adolescent medicine, and international health.
DFD Russell Medical Center offers a full line of services to meet your specific needs. We make it easy to get the care you need by having an on-site lab and pharmacy. You can get your exams, medical tests, and most medicines during the same visit.
Illness and Injury Treatment:
Care for acute illnesses

Bronchitis/upper respiratory infections
Cold or Flu

Gastrointestinal problems
Management of chronic illness (diabetes, asthma, cardiovascular disease, depression)
Sexually transmitted diseases
Sprains
Urinary tract infections
Wound care
Other Services:
Pregnancy testing
HIV testing
24-hour on-call coverage
Saturday and Sunday office hours for sick calls
Skin disorders (eczema, acne)