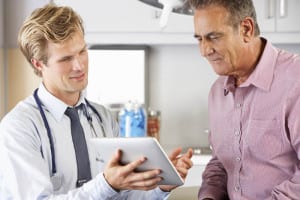 DFD's model of care puts a high value on preventative care for men's health. Our providers understand the unique health needs of men at every stage of life.
Quick Tips to Good Health
Get good sleep. Adults need between 7-9 hours of sleep. Insufficient sleep is associated with a number of chronic diseases like cardiovascular disease, depression, and diabetes.
Terminate the tobacco. It's never too late to quit. DFD's smoking cessation program offers counseling and recourses to assist patients in their effort to quit.
Be active. Adults need at least 2 ½ hours of moderate-intensity activity every week. Take part in aerobic activity and muscle strengthening activities to keep your health in top shape.
Eat healthy. Be sure you are eating a variety of fruits and vegetables every day. They provide you with many vitamins and minerals that protect you from chronic diseases.