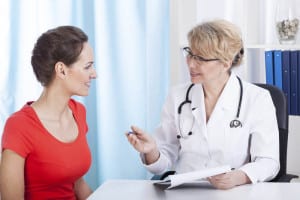 DFD's model of care puts a high value on preventative care and women's health. Our providers understand the unique health needs that women face at every stage of life.
Quick Tips to Good Health
Stay on top of your health! Keep regular checkups and preventative screenings with your doctor.
Be active. Move more and partake in at least 2 ½ hours of moderate-intensity activity every week. Include aerobic activity and muscle strengthening activities to keep your health in top shape.
Eat healthy. Include a variety of fruits and vegetables in your diet every day. These fruits and veggies will provide you with the vitamins and minerals you need to help protect you from chronic disease.
Be aware of your mental health. Mental health is important; be sure you are managing stress and getting enough sleep.
Family Planning
Women's health and family planning services offer patients counseling, education, and on-going care in addition to physical exams and medications or supplies needed for the patient's chosen method of family planning.
Family Planning Services Include:
Pregnancy testing
Yearly physical exams including Pap Smear & laboratory tests
Education regarding family planning methods, health promotion, and disease prevention
Emergency contraception available
*Free Language assistance available*