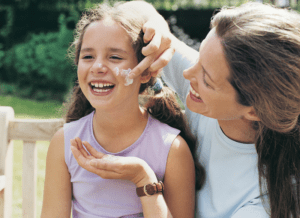 In just fifteen minutes the sun's ultraviolet rays can damage your skin causing lasting effects that include premature aging of your skin, suppression of your immune system, and even skin cancer. You can protect your skin from the sun by wearing long-sleeved clothing, hats and sunglasses, and applying a broad-spectrum sunscreen.
Sunscreen allows your skin to safely absorb or block ultraviolet radiation that causes damage and mutations in genes involved in the development of cancer.
While sunscreen can protect you from the sun, sometimes it can do more harm than good. For example, Vitamin A found in many sunscreen products can actually speed the growth of cancerous tumors when used on skin exposed to sunlight. The Environmental Working Group (EWG) is an organization dedicated to protecting human health and the environment. They conduct research to empower consumers to understand what is in products and the effects those products can have on their own health and the environment. EWG's sunscreen database rates the safety and efficacy of sunscreens and other products with SPF. Below, we share some of their guidelines and research to help clue you in on what to look for when searching or high-quality sun protection:
When buying sunscreen look out for the following ingredients:
Oxybenzone – Acts like estrogen in the body and is associated with endometriosis (irregular growth of the uterine tissue) in women.
Vitamin A (retinyl palmitate) – Accelerates the growth of cancerous tumors when used on skin exposed to sunlight.
Added insect repellent – Reduces the potency/effectiveness of sunscreen by one-third.
Look for these safe, high-potency sun protection ingredients:
Zinc oxide
Avobenzone
Mexoryl SX
When buying sunscreen, avoid these types of products:
Sprays – Dangerous if inhaled, easy to apply to little or to miss spots.
Powders – Little sun protection and inhaling loose powders can cause lung irritation or other harm.
SPF above 50 – High SPFs may protect against sunburn but could leave your skin exposed to damaging UVA rays.
Look for these types of sunscreens:
Cream
Broad-spectrum protection
Water-resistant
SPF to suit your needs, 15-50 – These numbers represent the measure of a sunscreen's effect against UVB rays, or maximum exposer time. (Varies slightly from person to person.)
Click the link to visit EWG's website and to see a list of their top-rated Beach and Sport Sunscreens so you don't have to waste your time standing in front of the sunscreen aisle when you should really be enjoying the beach.