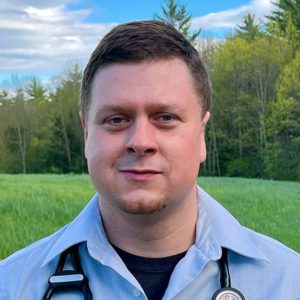 Aaron White, PA-C
Accepting New Patients
Aaron White, PA-C, joined DFD Russell Medical Centers in June 2022. He holds a master's degree in physician assistant studies from the University of New England with clinical experience in emergency medicine, family medicine, general surgery, surgical ICU, cardiology/ICU, internal medicine and express care.
Aaron has professional experience as an advanced emergency medical technician at Monmouth Rescue in Monmouth, Maine, and Winthrop Ambulance Service in Winthrop, Maine. He's also been active as a public policy advisor to improve the systems of care that are dedicated to improving the lives of the citizens of Maine, including initiatives to expand access to naloxone, expansion of Medicare/Medicaid programs, and COVID-19 response and planning.
Aaron is a licensed Advanced Emergency Medical Technician with the state of Maine, holds a Community Paramedic Program state certification, and is licensed by the Maine Board of Osteopathic Medicine. He is looking forward to bringing compassionate health care to patients.