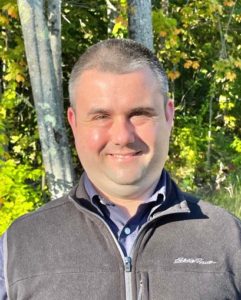 Christopher Butler, FNP
Accepting New Patients
Christopher Butler, FNP, joined DFD Russell Medical Centers' Monmouth location in September 2022. He holds a Master of Science in Nursing—Family Nurse Practitioner degree from the University of Southern Maine, a Bachelor of Science in Medical Biology from the University of New England, and an associate's degree in Paramedicine from Southern Maine Community College.
As a board-certified family nurse practitioner, Christopher specializes in family medicine, with a focus on managing acute and chronic medical conditions. He practices healthcare cooperatively with his patients, guided by his belief in an upstream model of care. By addressing smaller medical issues while they are still "upstream," the problems remain minor by the time they get "downstream," and thereby are easier to live with and manage. He views his role as an educator, helping people understand and invest in their health and involving them in shared medical decision-making.
Christopher arrives at DFD with more than twelve years of experience in high-acuity medical fields. He has been a family nurse practitioner, most recently at Poland Community Health Center, as well as a registered nurse and paramedic. A versatile, reliable leader, Christopher has also served as a volunteer with the Kennebunk Fire Rescue team.