A healthy and hearty weeknight meal.  
Print Recipe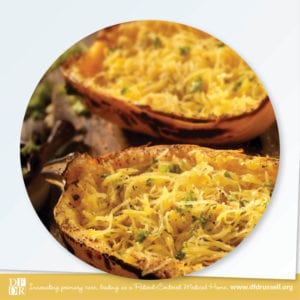 Ingredients
1

spaghetti squash cut in half, seeds removed

cooking spray

2

cups

chopped broccoli florets

3

cloves garlic, minced

1

teaspoon

red pepper flakes

pinch of salt and pepper

1

teaspoon

Italian seasoning (or use a mix of basil, thyme, oregano)

1/2

cup

shredded mozzarella cheese

1/3

cup

shredded Parmesan cheese
Instructions
Place squash halves in a microwave safe bowl with ¼ cup water in the bottom of the dish. Cook for 9-11 minutes, until tender. Set aside. Alternatively, you can also roast squash on a baking sheet in a 350 degree oven, flesh side down for 50-60 minutes.
Spray a skillet with cooking spray. Add red pepper flakes, toast for 30 seconds.
Add broccoli and garlic and stir to combine. Add 2 tablespoons of water and cook for 3-5 minutes. Once cooked, add to a large bowl.
Use a fork to scrape out the flesh of the spaghetti squash. Add to the bowl with broccoli and garlic.
Add Parmesan cheese, Italian seasoning. Stir to combine.
Add spaghetti squash and broccoli mixture evenly back into squash shells. Top with shredded mozzarella cheese and place into baking dish.
Turn on oven broiler. Place squash under oven broiler for 2-3 minutes. Watch carefully!
Once cheese is bubbling and browned, carefully remove from oven making sure to turn broiler off.