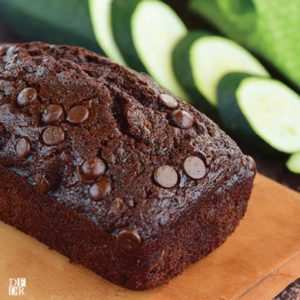 Bake your loved ones this chocolatey goodness for Valentine's Day. With more veggies and less sugar, it's a delicious treat that's healthier for their hearts. Now that's true love!
Print Recipe
Ingredients
1/2

cup

all-purpose flour

1/2

cup

whole wheat pastry flour

1/2

cup

unsweetened cocoa powder

3/4

teaspoon

baking soda

1/4

teaspoon

baking powder

1/4

teaspoon

salt

3/4

cup

dark chocolate chips

2

eggs

1/4

cup

vegetable or canola oil

1/4

cup

plain Greek yogurt

1/4

cup

unsweetened applesauce

1/4

cup

sugar

1

teaspoon

vanilla extract

1 1/2

cups

shredded zucchini
Instructions
Preheat oven to 350 degrees F and line a loaf pan with parchment paper.
Shred the zucchini using a large-hole grater. Lightly squeeze out the excess water.
In a large bowl, combine flour, cocoa powder, baking soda, baking powder, salt, and chocolate chips.
In a medium bowl, whisk together eggs, vegetable oil, yogurt, applesauce, sugar, and vanilla until smooth.
Whisk the wet ingredients into the dry ingredients, and stir until just combined.
Fold in the zucchini until spread throughout the batter. Pour the batter into the prepared loaf pan.
Bake for 40 minutes, or until a fork inserted in the center of the loaf comes out clean. Remove from the oven and, when the pan is cool, tip out onto a wire baking rack to cool completely.