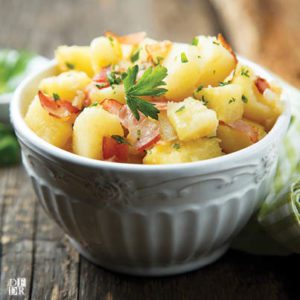 Protein-packed potato salad says Maine in fall all over it.
Print Recipe
Ingredients
2

shallots (one cut in half, the other finely diced)

4

thyme sprigs

1

bay leaf

1

cup

French lentils

salt and pepper

1

pound

fingerling potatoes, preferably Maine-grown

2

tablespoons

red wine vinegar

1

garlic clove, minced

1

tablespoon

Dijon mustard

¼ cup olive oil

2

teaspoons

capers, rinsed, drained, and roughly chopped

2

tablespoons

cornichons, roughly chopped

2

scallions, thinly sliced

½ cup flat-leaf parsley
Instructions
Rinse the lentils and place in a medium saucepan with the halved shallot, thyme, bay leaf, a big pinch of salt, and 4 cups of water. Simmer over medium heat for about 30 minutes until the lentils are tender but still firm. Drain, discarding everything but the lentils, and keep warm.
Meanwhile, cook the potatoes in a separate saucepan. Cover them with 2 inches of cold water. Bring to a boil, then simmer for 15 minutes. They are done if they are easily pierced with a knife. Drain and keep warm.
Make the dressing by combining the chopped shallot and red wine vinegar in the bottom of a bowl and letting it sit for 5 minutes. Whisk in minced garlic, mustard, a pinch of salt and a pinch of pepper, and olive oil. Stir in capers, cornichons, and scallions.
Slice potatoes into ½-inch pieces, then add the lentils, dressing, and parsley.
Enjoy!