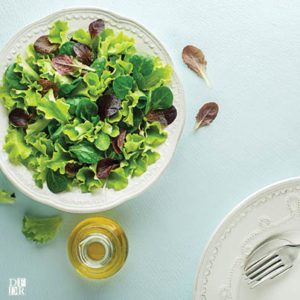 Load up on nutrient-packed veggies and in-season greens. This salad recipe shows you how to build a meal—and stock up on energy, health, and vitality.
Ingredients
For the salad:
A few handfuls of mixed greens

1

grilled chicken breast, sliced

1/2

avocado, pitted and diced

1/2

red onion, thinly sliced

1

handful parsley, coarsely chopped

1

handful cilantro, coarsely chopped

1

bunch chives, coarsely chopped

1

handful mint or dill leaves (optional)
For the dressing:
1

lemon

1/3

cup

olive oil

sprinkle of salt and pepper
Instructions
Combine greens of your choosing in a large bowl, along with thinly sliced red onion and coarsely chopped parsley, cilantro, and chives. Add mint or dill leaves if desired.
Drizzle olive oil over the greens until lightly oiled. Squeeze halved lemon into the bowl. Season heavily with flaky salt and freshly ground black pepper.
Top the salad with grilled chicken and diced avocados.
Enjoy!