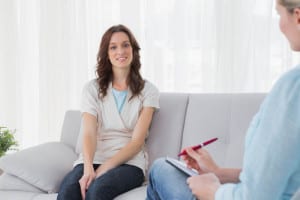 As part of our commitment to whole person, patient-centered care, behavioral health consultation is available to all patients of DFD Russell Medical Center. A consultation is a 15-25 minute visit with one of our behavior health specialists before, during, or after your visit with your primary care provider.
As a member of your primary health care team, the consultant will have a close working relationship with you and your PCP to help resolve a variety of health issues such as stress, pain, insomnia, habits or addictions, parenting matters, managing chronic conditions such as diabetes or heart disease, overcoming trauma, anxiety, phobias, depression, or improving family relationships.
Tele-Psychiatry
Connect with top psychiatrists in Maine from your primary care provider's office via a video conferencing system. DFD Russell Medical Center partners with Sweetser to bring patients this service, which is offered in our Leeds health center.
Medicare Intensive Behavioral Therapy for Obesity (IBT)
IBT is a free program for Medicare patients with obesity.
The program includes:
• Screening for obesity in adults by calculating BMI
• Dietary assessment
• Intensive behavioral counseling and behavioral therapy to promote sustained weight loss through high intensity interventions on diet and exercise all conducted by the patient's primary care physician (PCP)
• Weekly and monthly face-to-face meetings with the patient's PCP
Who can participate in the IBT program?
Obesity is defined as a Body Mass Index (BMI) of 30 or higher. In order to participate in the program, a Medicare patient must have a BMI of 30 or higher. A patient must also meet a 6.6 lb. weight loss requirement in the first 6 months in order to continue monthly visits in months 7-12. No Medicare co-insurance is due from patients who qualify to participate in the program.
Behavioral Health Consultant Staff: