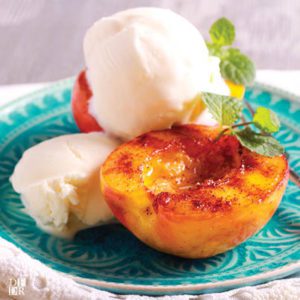 Keep the BBQ fired up to make this simple, healthy dessert that's sure to impress.
Print Recipe
Ingredients
6

peaches, halved

2

tablespoons

olive oil

2

tablespoons

brown sugar (optional)

1

tablespoon

cinnamon (optional)

vanilla ice cream (optional)
Instructions
Prepare the grill to medium heat. If using the grill to cook other items at a higher temperature, set the peaches around the edges of the grill or wait until all other items have been removed.
Halve the peaches by running a knife along the peach's seam. Remove the pit.
Lightly brush the peaches with olive oil.
Grill peaches cut-side down over medium heat for 4-5 minutes until grill marks appear.
Flip the peach halves over. If desired, sprinkle with cinnamon and brown sugar. Grill another 4-5 minutes, or until the peaches are tender.
Remove peaches from the grill. Serve hot or warm. If desired, top the peaches with vanilla ice cream.