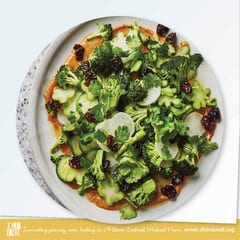 A flavor-packed salad.  
Print Recipe
Ingredients
1/2

cup

creamy peanut butter

4

tablespoons

rice vinegar

1

tablespoon

soy sauce

1

teaspoon

sugar

1

teaspoon

sesame oil

1 1/2

piece of ginger, finely grated

2

small heads of broccoli

2

small cucumbers, thinly sliced

1

daikon or other radish, peeled and thinly sliced

3

tablespoons

olive oil

2

teaspoons

dried cherries

cilantro sprigs for serving (optional)

salt to taste
Instructions
In a medium bowl whisk together peanut butter, vinegar, soy sauce, sugar, oil, ginger and 2 tablespoons of water until smooth. Add salt to taste.
Slice broccoli stems into florets. Cut up larger florets into bite-sized pieces.
Peel the stems and slice thinly.
Combine the sliced stems and bite-sized florets, cucumbers, and daikon into a large bowl.
Add oil and vinegar and toss to coat.
Spread the peanut dressing onto your serving tray, plate or bowl.
Lay broccoli mixture on top of peanut dressing.
Top with cilantro and cherries, if using.