A rustic autumn-inspired meal.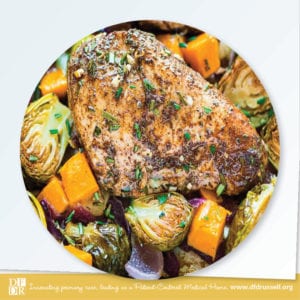 Print Recipe
Ingredients
4

boneless, skinless chicken breasts

3

tablespoons

olive oil

4

garlic cloves, minced

1

teaspoon

cinnamon

1

teaspoon

salt

1/2

teaspoon

black pepper

1

tablespoon

rosemary

4

cups

Brussels sprouts, trimmed and halved

1

large sweet potato, cut into 1/2" cubes

1

large red onion, cut into 3/4" pieces

1

Granny Smith Apple, peeled, cored and cut into 1" pieces
Instructions
Preheat oven to 425 degrees.
Season chicken with 1 1/2 tablespoons olive oil, minced garlic, rosemary, cinnamon, salt, and pepper. Rub oil and spices into chicken well.
Place chopped Brussels sprouts, sweet potato, onion, and apple on a large baking sheet. Drizzle with 1 1/2 tablespoons olive oil and sprinkle with salt and pepper. Toss evenly to coat and place in a single layer.
Put chicken on top the apple and vegetable pieces. Place in the oven and roast for about 20 minutes.
After 20 minutes, check the temperature of the chicken and remove once it's reached an internal temperature of 165 degrees. Set aside on a plate.
Sprinkle apple and veggies with rosemary and put back into the oven to caramelize, about 10-15 minutes.
Once finished, serve with roasted chicken.