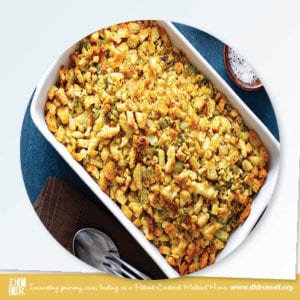 It's a Thanksgiving dinner favorite—stuffing! This recipe has a healthier twist for everyone to enjoy.
Print Recipe
Ingredients
12

ounces

whole-grain bread cut into cubes

2

tablespoons

oil

2

cups

onions, chopped

1

cup

celery, chopped

1

cup

carrot, chopped

1

tablespoon

garlic, minced

1/4

cup

parsley, chopped

1/4

cup

sage, chopped

3/4

teaspoon

salt

3/4

teaspoon

pepper

2 1/2

cups

unsalted chicken stock

3

tablespoons

unsalted butter, melted

2

eggs

Cooking Spray
Instructions
Preheat the oven to 400 degrees.
Place bread cubes in single layer on a rimmed baking sheet. Bake for 20 minutes, stirring halfway through.
After 20 minutes, place bread cubes in a large bowl and reduce the oven temperature to 350 degrees.
While bread cubes are baking, heat a large skillet on medium-high heat. Add oil to coat the pan.
Add onion, celery, carrot and garlic.
Sautè for 10 minutes or until vegetables are tender. Remove pan from heat and add parsley, sage, salt and pepper.
Add vegetables and herb mixture to the bread mixture tossing to combine.
Combine chicken stock, butter and eggs in a bowl, stirring with a whisk.
Pour stock mixture over bread and vegetable mixture.
Place stuffing mixture in a glass baking dish coated with cooking spray.
Bake at 350 degrees for 25 minutes or until browned.