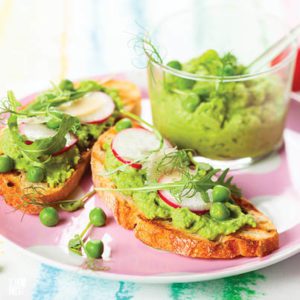 Fresh, sweet, and crunchy, this easy-to-assemble crostini is perfect for summer gatherings.
Print Recipe
Ingredients
2

cups

frozen green peas, thawed

3/4

cup

loosely packed mint leaves

1/2

cup

olive oil, evenly divided

1

tablespoon

white wine vinegar

3

tablespoons

grated Parmesan cheese

1

French baguette

sprinkle of salt and pepper

3

radishes, thinly sliced (optional)
Instructions
Preheat oven to 350°. Cut a French baguette into 24 1/4 inch slices.
Place baguette slices on baking sheet. Brush both sides with olive oil and season with salt and pepper as desired. Bake for 15-20 minutes or until golden brown. Remove bread from oven and let cool.
Meanwhile, add mint leaves, parmesan, white wine vinegar, salt, pepper, and the remaining olive oil to a food processor and blend. Once the leaves have reached a consistency similar to pesto, add the thawed sweet peas to the food processor. Blend until smooth.
Assemble the crostini. Spread each crostini with the sweet pea mixture. Optional: Garnish with thinly sliced radishes or another garnish of your choice.
Serve immediately. If preparing ahead of time, store in an air tight container and refrigerate for up to 48 hours.