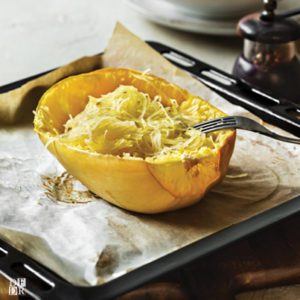 A vibrantly colored vegetarian dish, these burrito bowls go a long way toward meeting your daily veggie needs.
Print Recipe
Ingredients
For the spaghetti squash:
2

medium-sized spaghetti squash, halved and seeded

2

tablespoons

olive oil

Salt and pepper
For the slaw:
2

cups

purple cabbage, thinly sliced and chopped into 2-inch pieces

1

15-ounce can of black beans, rinsed and drained

1

red bell pepper, chopped

1/3

chopped scallions

1/3

cup

fresh cilantro, chopped

2

tablespoons

lime juice

1

teaspoon

olive oil

1/4

teaspoon

salt
Optional topping:
Sliced avocado, salsa verde, fresh cilantro, etc.
Instructions
Roast the squash: Preheat the oven to 400 degrees Fahrenheit. Line a baking sheet with parchment paper and place squash on it. Drizzle the halved squash with olive oil, then rub all over each of the halves. Sprinkle with salt and pepper lightly. Turn squash so insides are facing down. Roast for about 50 minutes, until you can easily pierce it with a fork through the thickest part.
Meanwhile, make the slaw: Combine the slaw ingredients in a mixing bowl.
Assemble: Fluff the spaghetti squash with a fork, then divide the slaw into each squash half. Sprinkle with optional toppings, if using.
Enjoy!