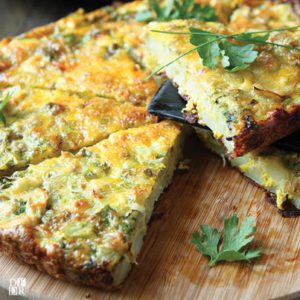 Try this versatile dish for any meal of the day: the protein fills you up and the veggies keep you well.
Print Recipe
Ingredients
1

tablespoon

olive oil

3

cups

seasonal veggies, diced (try zucchini, asparagus, bell peppers, broccoli, green beans, mushrooms, onions, spinach, etc.)

1/2

teaspoon

salt

10

eggs

1/2

cup

cheddar cheese, shredded (optional)

1/4

cup

fresh herbs (or 2 tablespoons dried), for topping (try basil, thyme, parsley, etc.)
Instructions
Preheat oven to 350 degrees Fahrenheit.
Over medium heat, heat oil in a 9-inch oven-safe pan. (Cast-iron is a good choice.) Add vegetables and salt. Sauté about 6 minutes. Remove from heat.
Whisk eggs in a bowl and pour over vegetables.
Bake until eggs are set, about 18 minutes. Add cheese, if using, on top and cook for an additional 2 minutes.
Garnish with herbs.
Enjoy!